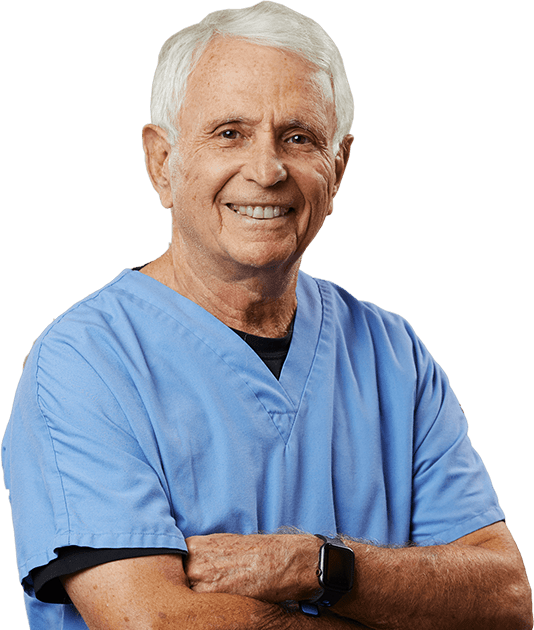 Our Doctors
Sylvan Feldman
DDS, MLA

Dr. Feldman practices periodontics and prosthodontics, with an emphasis on implants and full prosthetic reconstruction. He is the clinical director of the Periodontal Prosthesis and Implant Fellowship Program at the University of Maryland School of Dentistry
Dr. Feldman also serves as an associate clinical professor for the Department of Periodontics where he directs the Post Graduate Literature Review Seminar for Implantology and Treatment Planning. He is a Diplomate of the International Congress of Oral Implantologists and of the American Board of Periodontology. Dr. Feldman is well known for his many articles and lectures nationally and internationally, and has been a board examiner for the American Board of Periodontology from 2006 to the present.
Dr. Feldman earned a Bachelor of Science degree from the University of Maryland in 1962. He earned his doctor of dental surgery degree in 1965 from the University of Maryland School of Dentistry, and then served in the U.S. Army from 1965 to 1967. He earned certification in prosthodontics in 1976 and certification in periodontics in 1978, both from University of Maryland School of Dentistry. He also received a Masters degree in Liberal Arts from Johns Hopkins University in 1993.
An active participant in the professional organizations of periodontists and prosthodontists, Dr. Feldman is a member of the American College of Implantology, Maryland State Dental Society, Baltimore County Dental Association, American Academy of Periodontics, Fellow of American College of Dentists and Fellow of Pierre Frauchard Academy. He was president of the Baltimore College of Dental Surgery, University of Maryland Alumni Association from 1998 to 2000. Dr. Feldman currently resides in Baltimore, Maryland, while practicing in Towson, Maryland, at Feldman, Slevin, Hurwitz & Choe, D.D.S., P.A.
How Can We Help?
Because we are dentists with specialties in both periodontics and prosthodontics, we can provide comprehensive dental care throughout adulthood, no matter what the challenge. You'll see that each patient's comfort and care is our top priority.